Registration Opens March 1st, 2020
There are 2 payment options when you complete the online registration – you can pay in full online, or pay offline later at time of equipment hand-out on July 18th.
Based on your year-end survey feedback, we are eliminating fundraising activities, and increasing the up-front registration fee as follows:
3rd/4th Grade = $150.00
5th – 8th Grade = $200.00
This increase is critical to supporting the ongoing equipment needs of the organization – along with the fixed costs of uniforms, league fees, referee fees, etc.
We realize that this additional fee may be a burden for some, so we will have an option for you to "Opt In" on a raffle fundraiser. If you sell 5 tickets ($20/each), you can keep the proceeds to offset the additional registration fee. (You simply turn in your raffle tickets for the year-end banquet drawing.)
Choose Grade Player Will Be Entering This Fall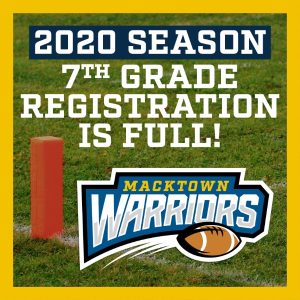 7th Grade Families – Please contact Matt Strand via email at strand.ale@gmail.com or phone at 815-519-4942 to be placed on a waiting list.